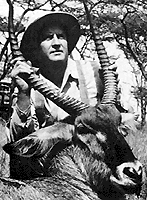 See the Barry Boone version of his life in: Tales by Firelight.

Peter Corbet-Bell is a lean man of average height but possesing a palpable toughness derived from years spent on safari on various planets. Raised in a middle class family, he graduated from university and spent several years as a stock broker and trader for Hortelez et Cie before abandoning a secure career for the profession of professional hunter and guide. After making a name for himself in the marches and setting several Boune and Croquet records, he was severely mauled by a Belvian Riger. During a long convalescence, he opened the restaurant Club Zambezei on Regina UpPort. The club has a famous bar featuring several hundred stuff animal trophies, and the restaurant specializes in wild game prepared in imaginative fashion.

When not hunting, Corbett-Bell can be found in the lounge of his restaurant entertaining visitors with his hunting stories. He is familiar with every species of dangerous game to be found in the marches, and as an expert tracker and hunter, is often sought after as a guide.