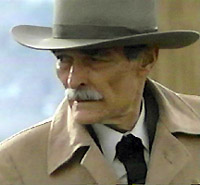 Jack is officially retired on Regina from the organ legging business. However, as one of the elder statesman of the underworld there, he is still sometimes called upon to arbitrate disputes and make policy. He can also be a useful contact person if someone needs something in that line. He is still found regularly at the back table or rear room of the Laughing Cadaver in Old Port. This routine was temporarily interrupted by the fire which destroyed that bar, but he has returned following it's rennovation.

Jack is also a member at the Jasmine Club, where he goes to drink tea and occasionally play chess. This is where he made the acquaintance of Grandma Kirby. Their friendship became a long running affair, which was only terminated by Grandma's rather suprising departure to join a cloistered Trappist convent off planet.

One of Jack's quirks is an affection for snakes, particularly rattlesnakes, which are allowed to roam his apartment. Grandma adjusted to making very slow, deliberate trips to the bathroom while visiting Jack's apartment. However many other visitors to Jack's apartment, both invited and uninvted, have vowed never to return.

Under direction from his doctors, Jack dines just one night a month at the Oakes, where he alternates between the Prime Rib dinner and the New York Steak, both done Medium Rare. The remainder of the time, he either eats at home or at the Jasmine Club. When he drinks alcohol, it's a single shot of rye straight up, with a branch water back.